Imprimer la
lumière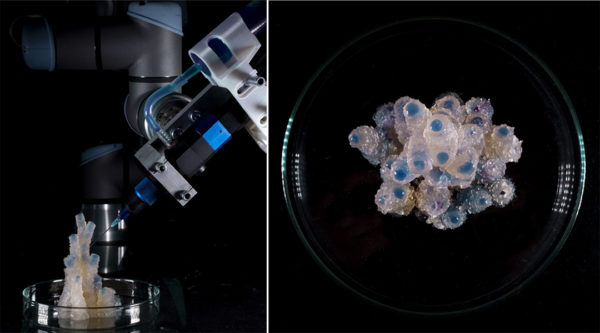 Imprimer la lumière (2019 - On going)
Exploring the appropriation of light-emitting bacteria as a 3D architectural materiality. A collaboration between by Soft Matters, Ensadlab, ENSAD and CITA .
Main researchers: Aurélie Mosse, Mette Ramsgaard Thomsen, Martin Tamke
Funding: IFD sciences programme of Institut Français du Danemark, Danish Arts Foundation, ArTeC.
Related publications:
Sieder-Semlitsch, J., Fabritius Buchwald, E., Bradshaw, H., Mosse, A., Tamke, M., Ramsgaard Thomsen, M., 2021, 'Imprimer la lumière: 3D Printing bioluminescence for architectural materiality', Conference Proceedings of "Projections" 26th conference CAADRIA 2021, 29 March-1 April 2021, Hong-Kong.
Mosse, A., 2020, 'Décors textiles: du déchet à la Biogée', Revue Décor, Paris: Ensad, 4th of December 2020.