Façonner l'avenir (2013-2017)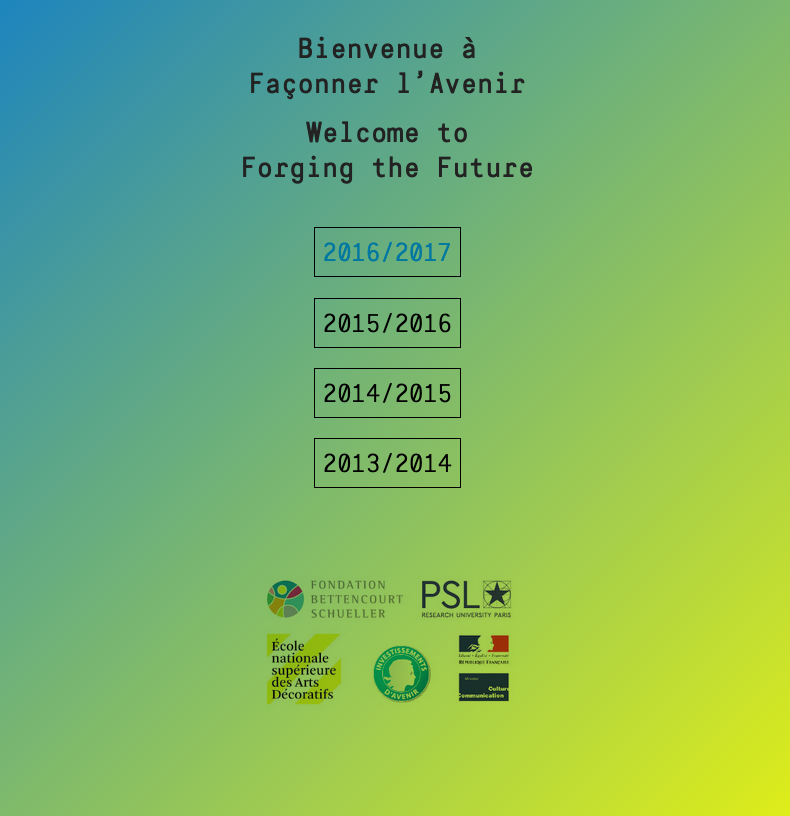 Façonner l'avenir (2013-2017)
Façonner l'avenir is a conference and workshop cycle developed from 2013 till 2017 in the framework of the Chaire Innovation & Savoir-Faire supported by the Bettencourt-Schueller at Ecole des Arts Déco.

Façonner l'avenir was developed over 4 editions as means to introduce 1st MA students of Ecole des Arts Déco to research and innovation underpinned by  practice-based and art/design-led approaches. Initiated in 2013 by Aurélie Mosse for the Textile and Material design department, it was subsequently coordinated in collaboration with the Object design and Graphic design departments of the school. Opened to the general public, the conferences were  progressively supplemented by hands-on workshops for the 1st MA students of the involved departments. Each year was focused on a specific subject:
In 2013-14, the cycle addressed technological issues with the aim to rethink textile design in a context of resilience
In 2014-15, the cycle explored tactics and tools that have the potential to shape an ecologically-minded urbanity and a sustainable quality of life.
In 2015-16, the cycle investigated the tangible variable of temporality within creative practices
In 2016-17, the cycle focused on the notion of boundary and the new know-how emerging at the edge of the city and of the living
These interactions are made available through a dedicated website: https://www.cyclefaconnerlavenir.ensad.fr/
Venue: Ecole des Arts Déco
Speakers: over the years the cycle gathered guests such as Bernard Stiegler, Marie-Sarah Adenis, Kate Goldsworthy, Jonathan Chapman, Arne Hendriks, Timothy Norton, Philip Beesley, Barbara Adam, Elie During, Ed van Hinte, Anne-Laure Amilhat-Szary, Oron Catts and many more ! Check the detail of each edition on the dedicated website.

Programming & coordination: Anna Bernagozzi, Francesca Cozzolino, Sophie Krier, Aurélie Mosse
Funding: The cycle was generously supported by the Bettencourt Schueller foundation via  the Chaire Innovation & Savoir-faire developed at Ecole des Arts Déco.