Colloque vestimentaire: penser
la mode autrement (2021)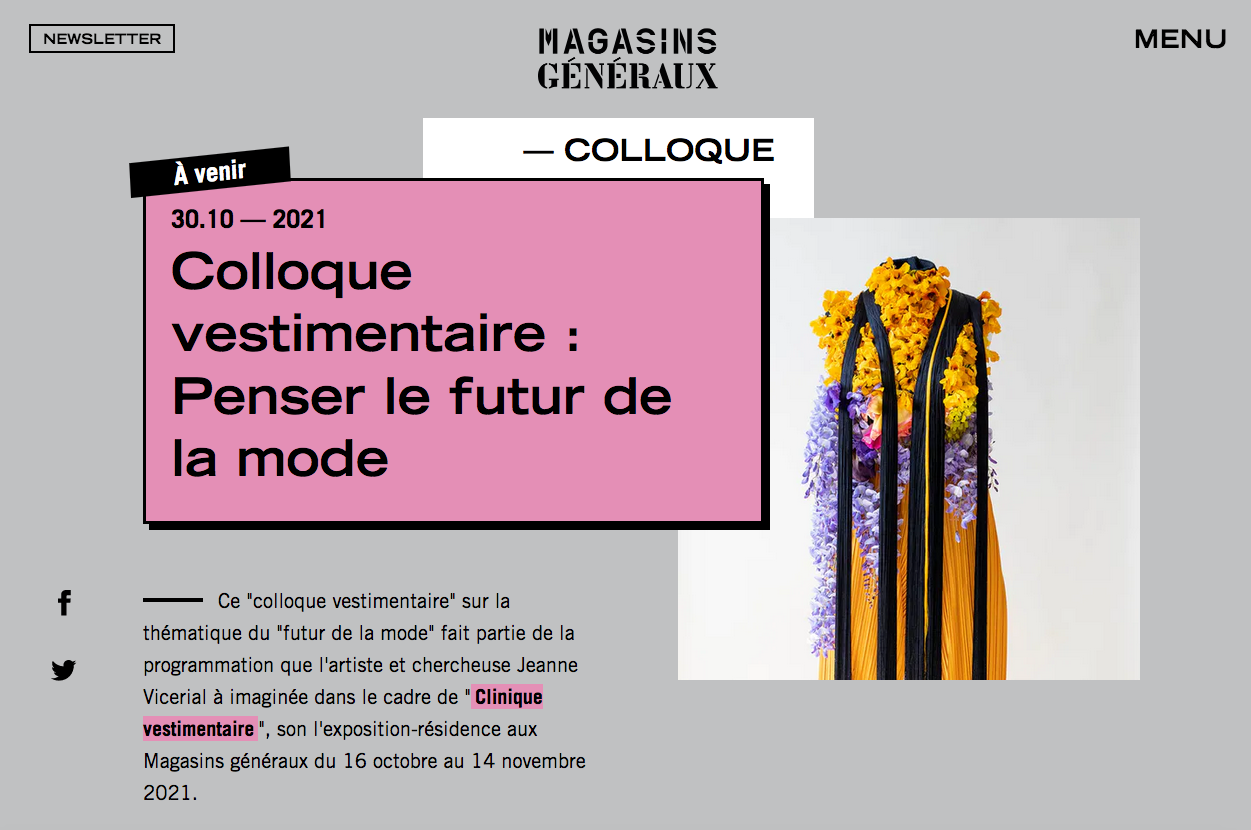 Colloque vestimentaire: penser la mode autrement (2021)
A fashion-led colloquium co-organised by Magasins Généraux, Soft Matters and Ecole des Arts Décoratifs in the context of the exhibition-residency of Jeanne Vicerial at Magasins Généraux from the 16th of october till the 14th of November 2021
Jeanne Vicerial unpacks her suitcases at Magasins Généraux for an exhibition-residency around her Clinique Vestimentaire from the 16th of October till the 14th of November. This event curated by Anna Labouze & Keimis Henni takes part in the dissemination of her PhD research undertaken in the SACRe program and prepared within the Soft Matters research group at EnsadLab, École des Arts Décoratifs and her subsequent investigations, notably during her residency at Académie de France à Rome – Villa Médicis (2019-2020). At this occasion, Soft Matters is supporting the program surrounding the exhibition, in particular the fashion-led colloquium to which several members are contributing:
SAMEDI 30 OCTOBRE
COLLOQUE VESTIMENTAIRE : PENSER LE FUTUR DE LA MODE
14h — Rencontre #1 | De l'atelier au laboratoire : introduction et visite commentée de l'exposition- résidence par Jeanne Vicerial
15h — Rencontre #2 | Les nouveaux liens entre recherche et création textile : présentation du groupe de recherche Soft Matters de l'EnsadLab (laboratoire de recherche de l'École des Arts Décoratifs de Paris) par ses cofondateurs, Aurélie Mosse et Jean-François Bassereau
15h30 — Rencontre #3 | Le retour du savoir-faire artisanal dans l'innovation textile : présentation des projets de recherche d'Antonin Mongin et de Juri-Apollo Drews, doctorants du groupe Soft Matters de l'EnsadLab, suivie d'une conversation avec Jeanne Vicerial
17h — Rencontre #4 | Le rapport au corps et au vêtement au-delà de la mode : conversation entre la designer Wendy Andreu, le sculpteur Hugo Servanin, la plasticienne sonore Nadine Schütz et Jeanne Vicerial.
Modération du colloque : Anna Labouze & Keimis Henni, directeurs artistiques des Magasins généraux
The full program of events around this exhibition available here. NB: French will be the langage of the event.